These charming Chrysanthemum bouquets will surprise anyone. Cut flowers are created with joy and love for You. We will deliver at your desired time and place, addres. Sending a Flowers delivery in Riga is free of charge. We carry out delivery throughout Latvia. Flower Online Store | www.LaimesZieds.lv | Online shopping since 2010. Welcome.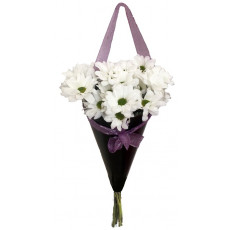 White chrysanthemums in black cone (only in Riga)
Large-flowered yellow chrysanthemums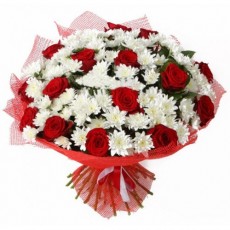 Flower Bouquet Best Wishes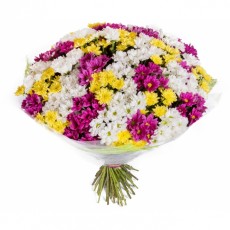 White, yellow and purple chrysanthemums
Bouquet Elegy
White and purple chrysanthemums
Purple chrysanthemums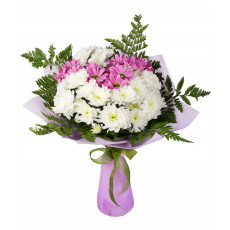 White and purple chrysanthemums
Large-flowered chrysanthemums
Bouquet Roses in snow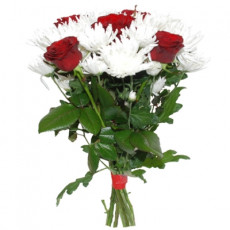 Chrysanthemums and roses 40 cm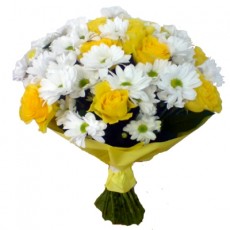 Bouquet Sunny Bunny
Flower delivery in Riga* free of charge within 2 hours. Work experience and responsibility. Always fresh flower bouquets. Fast flower delivery. Discounts for regular customers. Contact: 22389107

Flower delivery Terms & Conditions. Payments and supply reports. How to send flowers to Riga, Latvia same day and other.

Payment methods

Credit card
Bank wire transfer. After placing your order to your e -mail will automatically be sent an invoice which can be paid in a personal online bank or you can print it and pay cash at any bank branch or post office. We trust our client, so it is enough to send to our e-mail valid bank document confirming the payment, and the flowers will go immediately to the recipient!
Credit card, provided by PayPal. No registration needed. Click on the link "Pay with my credit or debit card" and you can easily pay for the flowers with your card
With PayPal account. This type of payment is convenient for those who own account in the system PayPal. Your order will be delivered to the address specified by you during the ordering process, not to the address of your account PayPal.
We inform you that all orders are processed only after 100 % prepayment. Upon receipt of payment or confirmation, we will e -mail you or sms about order status (at business hours).


Flower Delivery arrangement
Our couriers deliver flowers to any address in Latvia every day.
For the same day delivery in Riga (on business day), confirm the order before 16:00
For the same day delivery outside Riga (on business day), confirm the order before 10:00
For the delivery on holiday, confirm the order before Friday 16:00
Flowers delivered on a weekday in the intervals 9:00-13:00, 13:00 - 17:00 and 17:00-20:00
Send flowers to Riga * - for free! View price list for some Riga districts here.
Prices for delivery of to all cities and districts of Latvia can be seen in the section "Flower delivery prices"
In price of order includes one delivery to one address you specified or several orders to one address in one time delivery.

To make an order,

in

the basket

should be

flowers or a

fruit basket.

Not all products are available for delivery outside of Riga, as well as same day delivery. Read the description of the goods or feel free to use contact form. We'll answer in fiev moments or use our chat.
Orders for important dates (14.02, 08.03, etc.) must be confirmed in advance!
Due to the seasonality presented items may differ from the image. Order value is always retained.
Goods from sections "Greeting cards", "Sweets" are avaliable for delivery in Riga and its surroundings. In other cities may be added goods of equal value.
Goods from sections "Soft Toys", "Fruit baskets", "Flowers in Box", "Gourmet baskets" aren't avaliable for delivery outside Riga
Vases on the images are not included in the cost of flowers!
Enter all requested information correct, this is important! Especially your telephone number with the country code.
If the recipient is not at the specified address, the order may be transmitted to neighbors or colleagues, contacting the recipient beforehand.
If using the information provided by the customer we can not find or contact with the recipient, if the recipient is out of town or the country, etc. - payment for the order in such cases is not compensated .
If you want to change the composition or data of unpaid order, place a new order. Previous order will be canceled. If, after the payment, the order should be amended contact us via e-mail or contact form using Your order number.
All changes are possible within 48 hours before delivery.

Privacy

We confirm that the information and personal data (name and surname of the customer and recipient, phone numbers, delivery address, customer's e-mail and IP address) that you have submitted in connection with the visit of the www.LaimesZieds.lv website and the use of the services are processed and stored in accordance with the requirements of the European Union legislation regarding the protection of personal data.
The purposes for which your personal data may be used include: provision of services and accounting, identification, service improvement, communication, ad customization and research.
By submitting your data, you agree that the data is processed and stored for all the time required for data processing purposes, as well as in the cases specified in regulatory enactments, after the initial processing of data for as long as necessary.
The data collected will only be used for the purposes of the data processing specified herein and will not be voluntarily transferred to third parties, except: if such an obligation is imposed by law; to investigate and prevent possible violations of the law; to protect the rights and property of www.LaimesZieds.lv.
You have the right at any time to request information about the use of your personal data and to request the deletion of your data.

Right of withdrawal

Upon receipt of the goods, please make sure that the goods delivered correspond to the order.
The right of withdrawal is the consumer's right to withdraw from the contract (to refuse the order) within the period prescribed by law without having to pay a penalty, interest or indemnity.
Warranties and denials are subject to the laws of the Republic of Latvia as well as the type of goods sold.
The use of guarantee rights is possible if the Buyer has a document confirming the purchase, which, together with the purchased product, must be submitted to the Seller.
If the Buyer wishes to use the right of withdrawal, it must be taken into account that the right of withdrawal can not be realized:
after expiry of the statutory deadline
for immediate consumption goods
In the case of exercise of the right of withdrawal, the buyer must deliver the goods to the Seller's address, together with a purchase confirmation document, a withdrawal form and a guarantee voucher if such a buyer has been issued.
The Buyer will receive paid money for the returned goods in full within 30 (thirty) days from receipt of the written refusal.
The claim form is prepared by the consumer free of charge or completes the claim form, which is the Cabinet Regulation No. 1 of 1 August 2006.
Procedure for requesting and considering a consumer's claim for goods or services not in conformity with the terms of the contract.
For more information on consumer rights, please contact: PTAC website.
You can obtain general rules on consumer rights: Likumi.lv.
* - Delivery to remote areas of Riga - Berģi, Bolderāja, Darziņi, Jaunciems, Vecāķi, Vecdaugava – available for a nominal charge. See "Delivery Costs"
© All right reserved to www.LaimesZieds.lv . Content may not be reproduced, downloaded, disseminated, published, or transferred in any form or by any means!