TOP Flowers
Flower delivery in Riga* free of charge within 2 hours. Work experience and responsibility. Always fresh flower bouquets. Fast flower delivery. Discounts for regular customers. Contact: 22389107

Abut us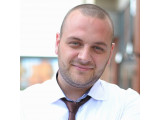 Dzintars
+371 22389107
'
Hello Dear Customer! Do you need a beautiful, high-quality flowers? You should congratulate someone very special, but cannot do it in person? You are at the right place and time, to order the best flower delivery in Riga, Jurmala, or in any other city and region in Latvia. We deal with the flower trade already in the second generation and know all your possible questions on flowers and delivery. You will receive the best quality service! We started our business in 2010 and we have gathered a lot of experience during these years. Trust us your care for flowers, gifts and supplies. We justify each client's investment. We are pedants in our work, evidenced by the number of our loyal customers. You and your birthdays will be pleasantly surprised by the received flowers, gift quality and excellent attitude. Join us!
Flower delivery and floristry
Feedback
Leave Feedback
Apsolīju uzrakstīt atsauksmi, kāpēc no 20 ziedu piegādes kompānijām izvēlējos Laimesziedu, jo piedāvājat oriģinālas lietas ( šokolāde ar uzrakstu, un piparkūku -8), kā arī tika izpildīta mana vēlme citam ziedu skaitam. Atbildes ļoti ātras. Pie kam saņēmu atlaidi , un Rīgā piegāde bezmaksas !Super ! Sūtīšu vēl ;)
03.03.2018
Liena
Постоянно заказываю доставку цветов через Вашу компанию. Хочу выразить огромную благодарность за высокий уровень профессионализма! Доставка всегда в срок, букеты великолепные: свежие и полностью соответствуют изображению на сайте. Планирую и в дальнейшем пользоваться Вашими услугами. Вы - лучшие!
13.02.2018
Ольга
Спасибо за Ваши услуги! Цветы свежие, красивые, все доставлено вовремя!!!
20.12.2017
Наталья
Serviss ir vienkārši super ..jau trīs gadu garūmā viss I smuki un vienmēr laikā...paldies jums par jūsu lielisko darbu
15.11.2017
Jānis
Paldies, ka palīdzējāt pārsteigt draudzeni dzimšanas dienā! Ātri un kvalitatīvi. Izmantošu vēlreiz Jūsu pakalpojumus, ja būs nepieciešams.
30.09.2017
Ilze
Здраствуйте! Хотела поблагодарить вашу компанию за быстрый,качественный сервис.Цветы доставили до Юбеляршы очень свежые, за что не могу не поблагодарить еще раз!!!Это действительно очень важно,находясь далеко и не имея возможности самому выбрать цветы, узнать что получятелю, доставили прекрасный свежый букет.Могу всем порекомендовать и обязательно при случаи обращусь к вам ещё!
12.09.2017
Ирина
See more